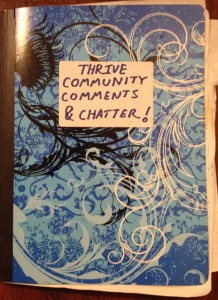 The Thriveworks Community Book is a "place" where visitors and clients can anonymously, and publicly, write…well, basically anything they want!
When we first put out our Community Book, we never imagined that so many people would share their thoughts and feelings about Thriveworks, counseling, coaching and even life in general.
Moreover, our favorite aspect of the book being in our office is how often contributors encourage one another!
Here is just a sampling of what visitors and clients have anonymously (publicly) shared.

Hi Thrive: Thank you for helping me! You're awesome.

Everyone I have met and worked with here has been compassionate, welcoming, and I have always felt treated kindly and with respect. Thank you!

Get well, think healthy, and GO PATS!
6 months in and still coming. Have been helped immensely. Safety, convenience, compassion and (!) late hours
really helped me commit.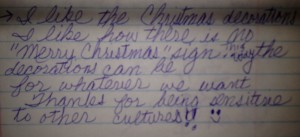 I like the Christmas decorations. I like how there is no "Merry Christmas" sign. This way the decoration can be for whatever we want. Thanks for being sensitive to other cultures!

I find your waiting room very warm and inviting. Thank you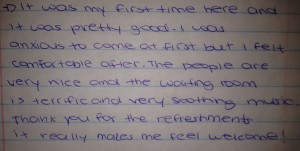 It was my first time here and it was pretty good. I was anxious to come here at first but I felt comfortable after. The people here are very nice and the waiting room is terrific and very soothing music. Thank you for the refreshments, it really makes me feel welcome!

Thank you for doing so well with the boys. They feel comfortable in and out of the office. They get excited they are coming in. I appreciate the waiting area, relaxing.
It's my first time here and it was a little tricky finding it … Hopefully everything goes well … A little nervous about being involved … The Décor is great though, very relaxing and comforting.

This is such a warm and friendly place and I am extremely happy that I found you guys. Thank you for providing such a supportive environment!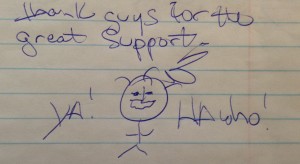 Thanks for the great support. Ya! Haho!
I love Thrive. I lost myself for a while, but I'm starting to make good progress. I have learned a lot about myself in the last few weeks. I like what I see and feel.

Thrive is a great place and my counselor is amazing. I am very grateful I have found this place and I have recommended it to friends. Thank you!

Today is my 1st Thrive appointment and I am very nervous. I hope to discover the answers I've been looking for here. Thank you for the tea!

Thrive is a wonderful place to get help with organizing my thoughts. Whenever I am here I feel more and more centered and forward.
Thank you for saving my marriage. Thank you for saving me! The waiting room is quite comfortable and I really appreciate the beverage assortment and late hours! <3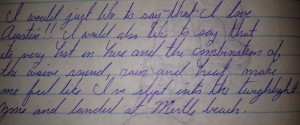 I would just like to say that I love Austin! I would also like to say that it's very hot in here and the combination of the wave sound; rain and heat make me feel like I've slipped into the twilight zone and landed at Myrtle Beach.

Keep up the good work!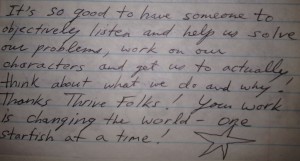 It's so good to have someone to objectively listen and help us solve our problems, work on our characters, and get us to actually think about what we do and why! Thanks Thrive Folks! Your work is changing the world – one starfish at a time!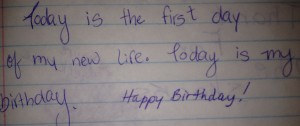 Today is the first day of my new life. Today is my birthday. (Happy Birthday!)

Glory to God! I can change! (With a lot of help from people who have made it their job to care and to listen) Thank You!

It's now my second time here … My first visit was really helpful; I was able to take home a lot out of my visit … Looking forward to my next visit. Everyone is very professional and helpful.
I'm scared to be here too, but I think it will be okay. And it's getting better all the time. Thank you for saving me from me!

And I like the saltwater taffey when you have it. This is a cool little book.
I was very nervous about coming in today. It's my first time here and I was anxious about what to expect. I instantly felt relaxed and at ease. The music is definitely soothing, and the lighting is not too intense. I can tell it's going to be a good experience. Thank you!
If there were a Zagat guide for best waiting room, you guys would get a high rating!

I love the starburst in the candy jar!

Nice touches – really feels welcoming!

I really enjoy the music you play in the waiting room – it's very soothing. Thank you for providing awesome drinks too!

We love the tea, root beer, and sugar options. Very welcoming and comfortable area to wait. Makes us feel at home and relaxed.

This place helped save my life. Thank you more than words can express.

We're only as strong as we give ourselves permission to be.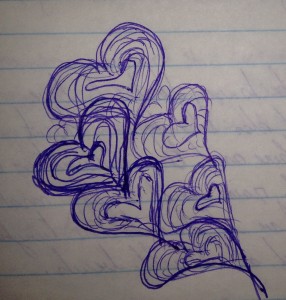 [hearts] (obviously)

You guys do great work and I appreciate being able to talk through my feelings here :-).
Thrive helped me realize that I do believe people can change. I'm not the person I was three months ago, broken and fearful. I'm healthy and happy and for the first time being kind to myself. Thank you for giving me my life back.