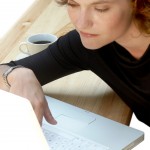 The experience of being face-to-face with your counselor / life coach, from anywhere.
for clients with busy lives, online counseling is fast becoming the preferred method of connecting with counselors / life coaches. Of the various ways to connect online, video-conference is often thought of as the "gold standard", as the interaction very closely resembles the in-office experience.
We want to connect you with an excellent counselor  or life coach. To schedule an appointment for counseling-by-video, simply give us a call at 1-855-4-THRIVE.